Originally posted on Farm Star Living.
When convenience meets deliciousness it's a beautiful thing! Minute Mashers™ from Green Giant™ Fresh delivers the homestyle buttery taste of homemade mashed potatoes without the hassle. And no one needs the hassle! After just seven minutes, you'll have a hot and healthy side dish of delicious mashed potatoes that are ready to eat.
Everyone loves mashed potatoes, but it's such a hassle to make them! There are so many steps and utensils and tools needed – pots and pans and waiting for water to boil and pulling out the milk and the butter and the seasonings. Then, you have to drain the potatoes from the boiling pot of water (always scary, honestly) then mash and taste-test and adjust seasonings and it just turns out to out to be quite a process! It's no wonder mashed potatoes are typically reserved for special occasions and holidays.
With Minute Mashers™ you don't any extra ingredients, boiling water, or pots and pans (say "goodbye" to those dishes). You just pop the whole package in the microwave for seven minutes. Then remove the package from the microwave with oven mitts, lay the package on the counter, and smash the potatoes in the bag to your desired mashed potato texture. Then just pour your hot mashed potatoes onto your plate and you're ready to eat!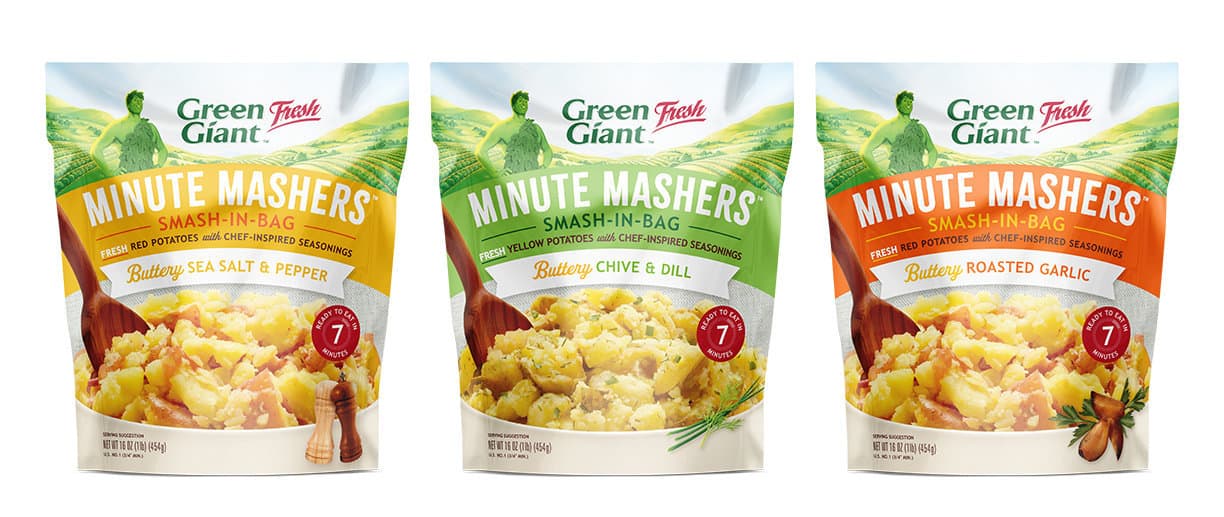 Inside the package are real, whole, skin-on, Green Giant™ Fresh Potatoes. Nope, none of the powdered potatoes or fake stuff – these are real, whole potatoes just like the ones you buy from the grocery store. There's also real butter and chef-inspired seasonings so all of the work is done for you. Green Giant™ Fresh offers Minute Mashers™ in three different flavors including: Buttery Sea & Pepper, Buttery Chive & Dill, or Buttery Roasted Garlic. There's a Minute Mashers™ flavor for everyone!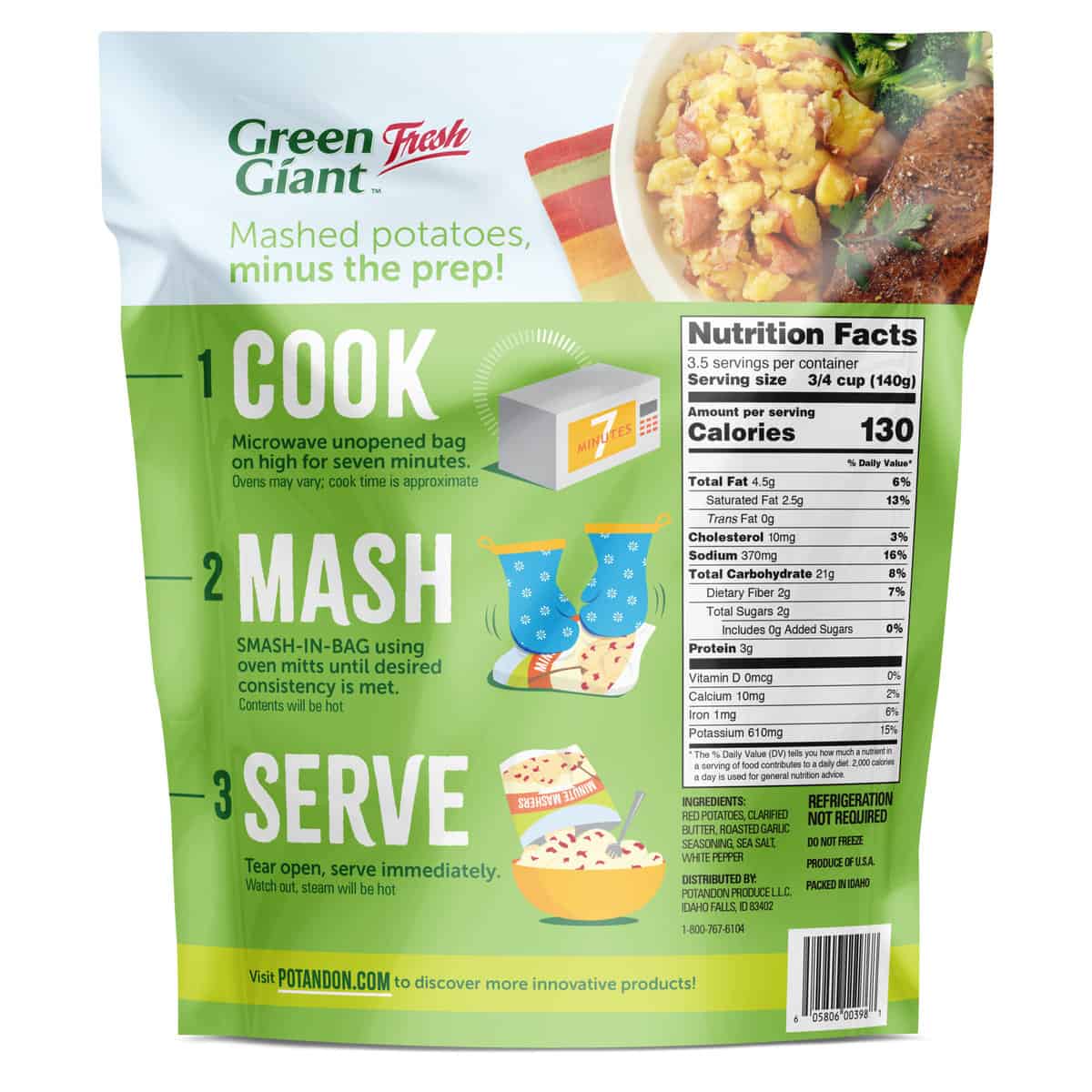 Minute Mashers™ are perfect for those that aren't so comfortable in the kitchen or just don't have the time to make a healthy vegetable side dish with your meals. Speaking of healthy – just take a look at the impressive nutrition information and short list of ingredients (that you can actually pronounce). Minute Mashers™ are shelf-stable which means there's no refrigeration required and you'll find them in the produce aisle of your grocery store.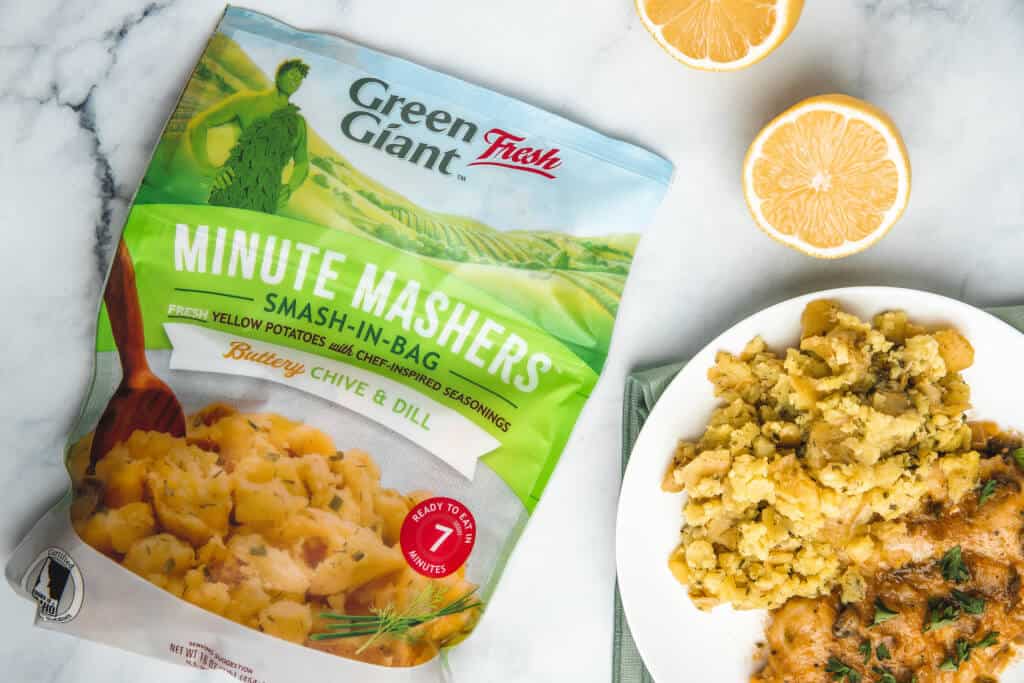 Here's a couple of ways to use Minute Mashers™ in your meals at home! Try our Chicken Piccata with Minute Mashers™ Mashed Potatoes for a quick and easy weeknight meal in minutes. Or give these Minute Mashers™ Mashed Potato Muffins a try for a fun and healthy side that the whole family will love. If you try Minute Mashers™ mashed potatoes or make these recipes at home, don't forget to share with us on social media and tag us and Green Giant™ Fresh Potatoes!