Originally posted on Farm Star Living.
Introducing Minute Mashers™ from Green Giant™ Fresh. I just had the privilege to film this exciting short :30 commercial for this new product, and I am telling you! This is a HIT! My nephews loved it, I loved it, everyone on set loved it, and it is worth your knowing about! Check out the video (on the right) to understand what makes them so special. And, let me give you the scoop right here – the mashed potato scoop!
If you are struggling with making breakfast, lunch, snack, and dinner – whether for yourself or for the kids, then you know that life is BUSY! Between getting the kids to school, carpools, after school activities and sports it can be too much for one person to handle it all! And, that's only taking care of the little ones – not even your own important work, to-do lists, tasks and the always elusive me-time. It's no wonder that by 4PM, people still don't know what they'll have for dinner! Take a deep breath because Minute Mashers™ from Green Giant™ Fresh saves the day.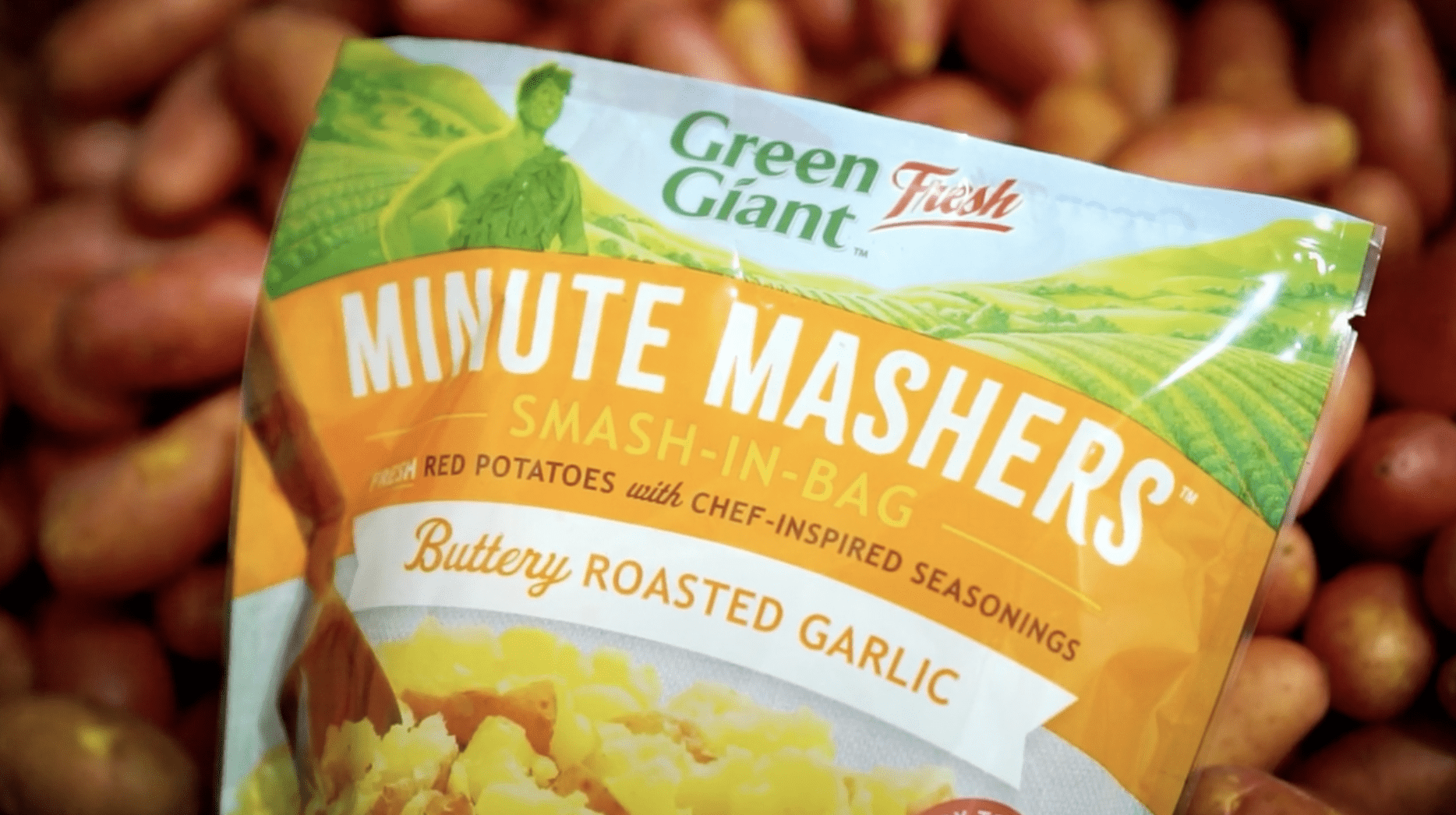 First, let's talk about what I feel is most important in a snack or meal – the nutrition content! Minute Mashers™ are not made with any strange potato products, dehydrated potatoes, or ingredients you can't pronounce. The short list of ingredients includes real, fresh, whole and skin-on potatoes, clarified butter, and fresh seasonings like sea salt, and white pepper. That's it! And each serving provides 140 calories, 2 grams of fiber, 15% of your daily potassium needs, and contains zero trans fat. I was so happy when I read the healthy nutrition label! How can something so healthy, also be so convenient and easy to make?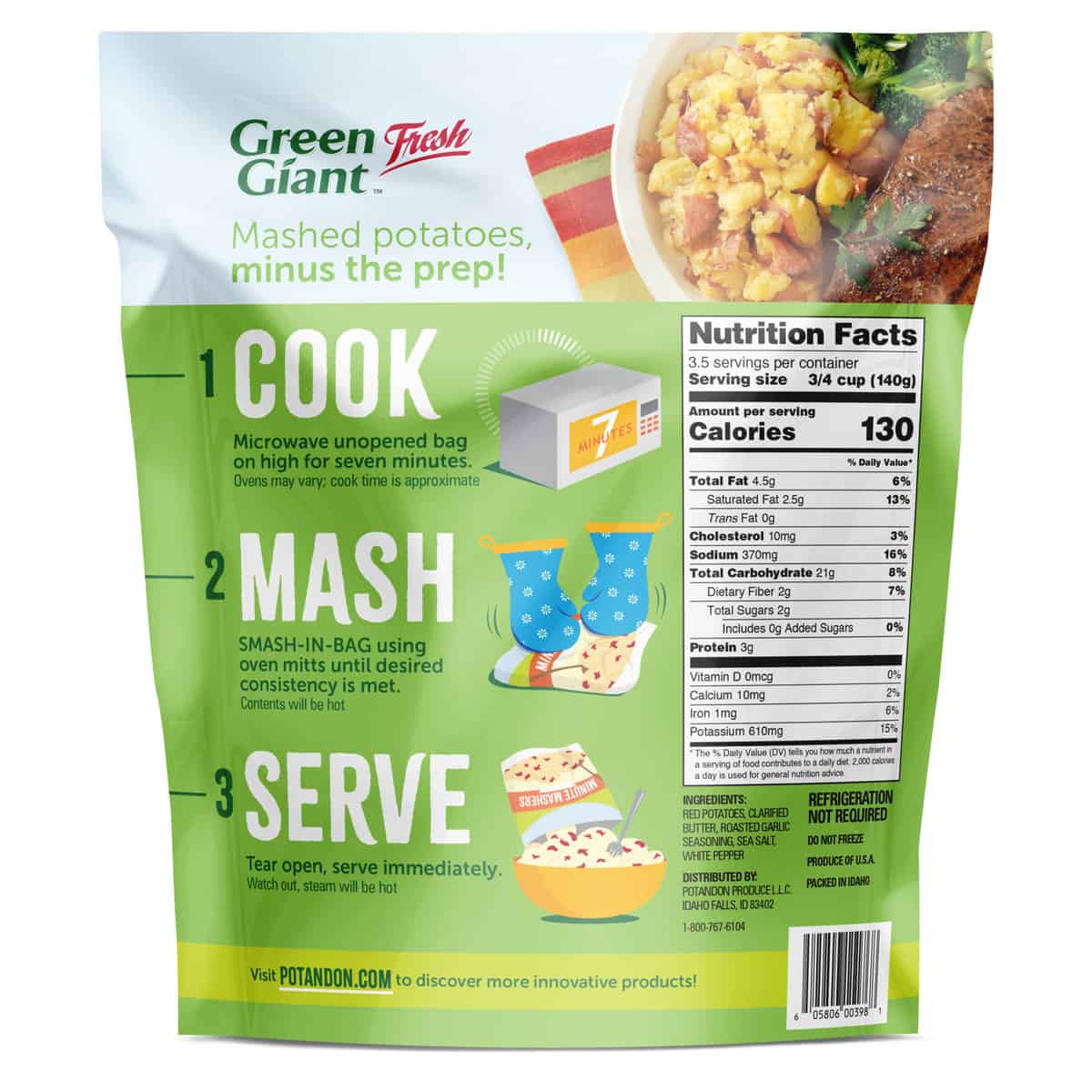 These Minute Mashers™ really knock it out of the park when it comes to quick and easy preparation. When I've shared about these potatoes in the past, I often receive comments and questions like, "Do I need to open the bag?" or "Do I add the potatoes to a bowl before cooking?" and "What do I do with the package and seasonings?" Hear me out and follow along because it really is as easy as 1, 2, 3!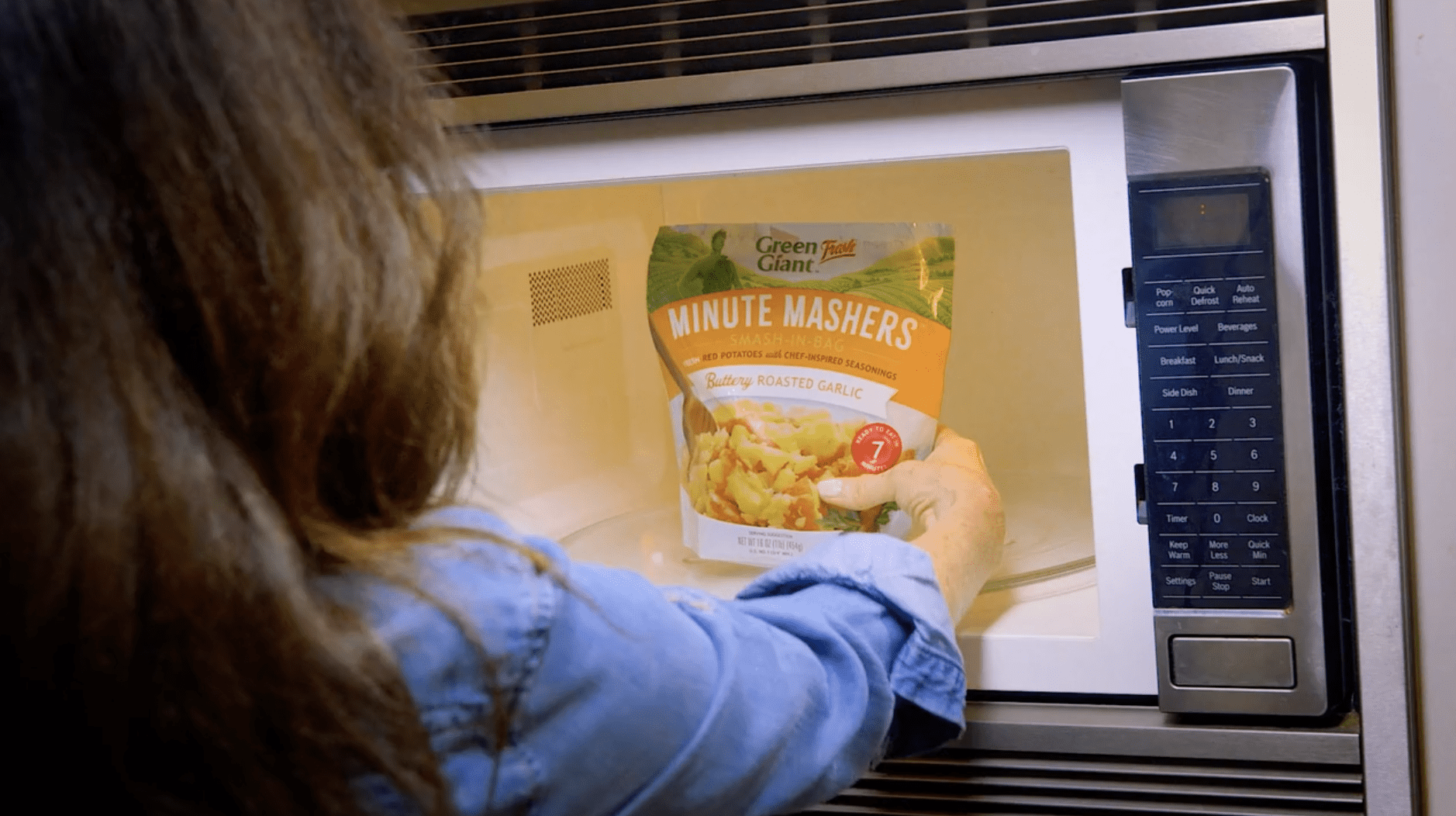 EASY DIRECTIONS
1.) Place the entire package of Minute Mashers™ in your microwave.
2.) Microwave for seven minutes.
3.) Mash AND smash – right in the bag – to your desired consistency.
No need to stop halfway through cooking to toss or turn the package, open the bag before cooking, or worry about how to season these mashed potatoes. Everything you need is literally right inside the bag and you just need to warm the whole package in the microwave and get to mashing.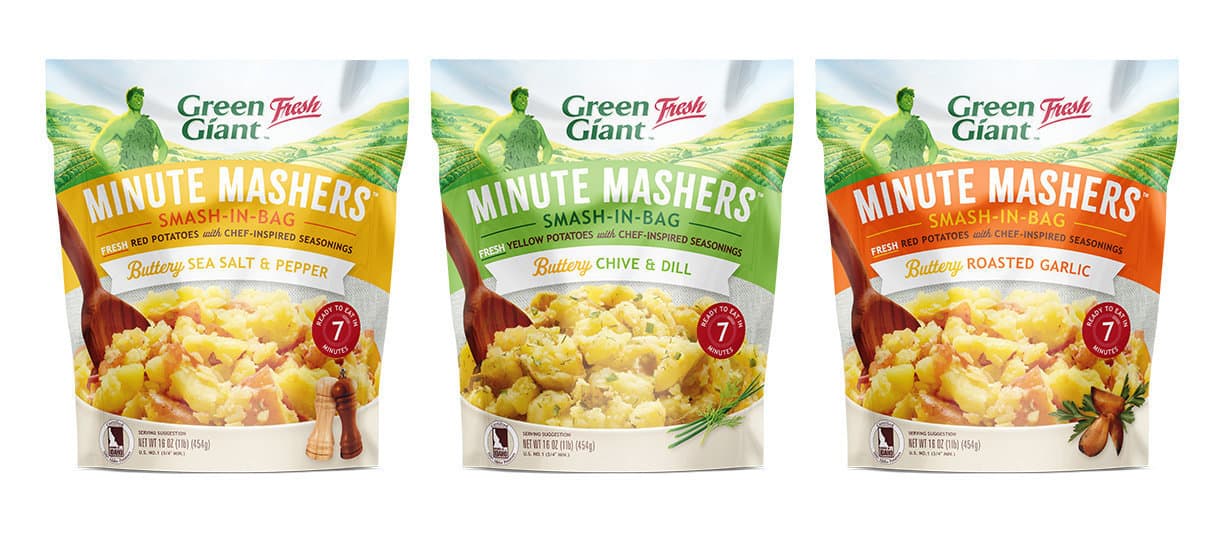 Minute Mashers™ also come in a variety of flavors which is perfect for picky eaters. Choose from chef-inspired seasonings like Buttery Sea Salt & Pepper for the purist, Buttery Chive & Dill for something a little more herbaceous, and Buttery Roasted Garlic for an extra kick of flavor! We're willing to bet you can find a flavor that everyone in your home will enjoy. Get the kids involved and let them smash and mash their own Minute Mashers™ for dinner. It is FUN!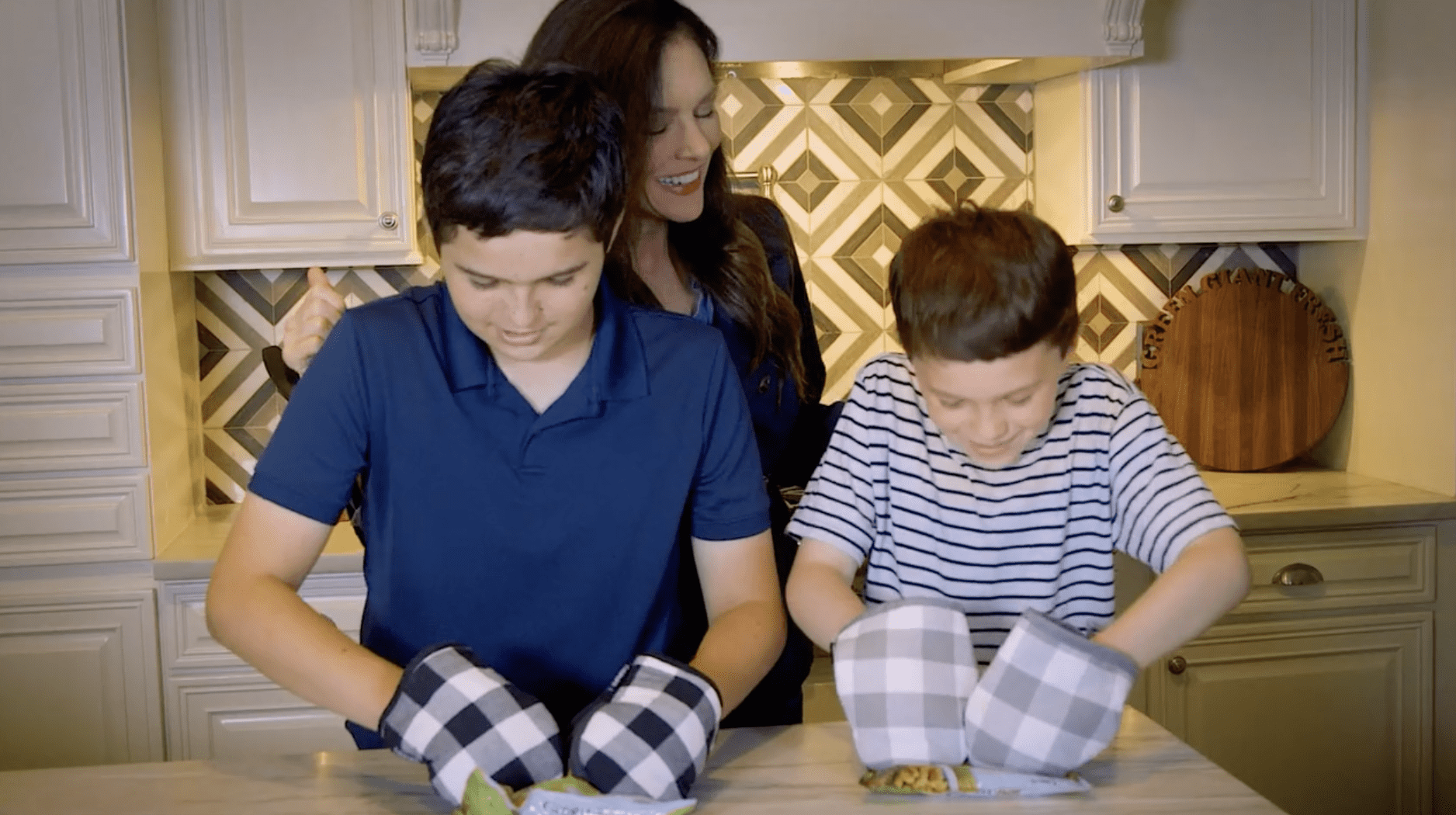 CREATIVE SERVING SUGGESTIONS:
Make Minute Mashers™ in the morning and keep them in a thermos for a hot and healthy veggie for school lunch!
Use Minute Mashers™ as a topping for shepherds pie and other one-pot casserole dishes!
Use Minute Mashers™ to make other tasty mashed potato recipes like pierogis.
As you can see, not only are these delicious mashed potatoes kid-friendly, they're also parent friendly because they save you time which is something we could all use a little more of in our lives. Save yourself the hassle and get your time back with Minute Mashers™ – from Green Giant™ Fresh.